AcceleDent® Aura allows for faster tooth movement.
Is the thought of having braces for an extended period deterring you from enhancing your smile? AcceleDent Aura may enable you to move your teeth up to 50% quicker than previously! This safe and simple-to-use device will help you get your dream smile in less time!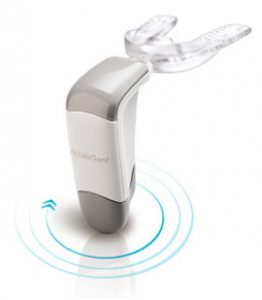 It's quick.
AcceleDent Aura is a compact, lightweight, hands-free gadget that may be worn for 20 minutes each day in combination with orthodontics. SoftPulse Technology's micropulses are meticulously adjusted to move your teeth in the appropriate direction.
It's gentle.
AcceleDent Aura securely accelerates tooth mobility with its exclusive SoftPulse Technology. Normal chewing generates at least 200 times the force on the teeth as AcceleDent Aura.
It is both safe and dependable.
Clinical trials in the United States have shown AcceleDent Aura to be safe. Since its introduction in 2009, it has been prescribed to tens of thousands of people worldwide. AcceleDent, which has been authorized by the US Food and Drug Administration, may only be obtained via your orthodontist.
AcceleDent Aura will make you smile!
Achieve your beautiful, desired smile – faster!
Accelerate your orthodontic experience without sacrificing aesthetics.
AcceleDent is lightweight and comfortable. You may even forget you're using it!
AcceleDent can be used for patients of all ages, including children, teens, and adults.