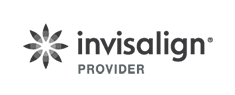 Straightening your teeth using the world's most advanced clear aligner has never been simpler or more affordable. We can help you get the smile you've always wanted most conveniently and enjoyably possible as a trained Invisalign provider.
Why should you use Invisalign?
Treatment will be faster: With weekly aligner tweaks, you may get the smile you want in less time. Depending on your treatment response, the period between aligner adjustments may be increased.
Proven Results: Because of the SmartTrack® material and SmartForce characteristics, dental mobility can be more efficiently controlled with Invisalign clear aligners.
Better fit: Aligners made of SmartTrack material are easy to put on and take off.
Effective: Invisalign clear aligners may cure a variety of teeth-straightening disorders, including crossbites, crowding, open bites, gapped teeth, and overbite or underbite.
Virtually Invisible: Because Invisalign aligners are almost unnoticeable, most people will not know you are undergoing treatment!
Comfortable: Invisalign clear aligner trays are not only smooth and comfortable to wear, but they can also be removed and changed. That means you can go about your normal daily routine, from brushing and flossing to eating anything you choose.
Convenient: Invisalign treatment is ideal for your demanding schedule since you just need to visit our facility every six weeks.
How to Begin with Invisalign
Your Initial Orthodontic Consultation
During your initial visit, we will discuss your orthodontic needs to see whether Invisalign treatment is right for you.
Your Individualized Treatment Plan
With the aid of iTero® digital scanning devices, 3D pictures of your teeth may be made fast and correctly. As part of this procedure, we will create a precise treatment plan that includes the exact movements of your teeth as well as the duration of your therapy. Your teeth will change, allowing you to see how your new smile could look.
Your Clear Aligners for Invisalign
Your custom-made aligners will be built using Invisalign's SmartTrack® material. Because they are practically unnoticeable, wearing them for teeth straightening will not bring attention to you.
Remove your Invisalign trays only when you eat, brush, or floss.
You're Making Progress!
Your teeth will gradually migrate into their right place when you put on a fresh set of aligners. Our team of orthognathic dental specialists may propose a new pair of aligners every week and a checkup every six weeks or so.
Maintaining Your Newly Improved Smile
Inquire about the use of a Vivera® retainer once your treatment is over. Vivera retainers were created using the same cutting-edge manufacturing procedures as Invisalign transparent aligners.
Please call our office to schedule a consultation to learn more about the Invisalign system and other orthodontic treatment options. We can't wait to meet you and get you started on the path to a gorgeous, healthy smile!
Invisalign and the Invisalign logo, among others, are trademarks of Align Technology, Inc., and are registered in the U.S. and other countries.