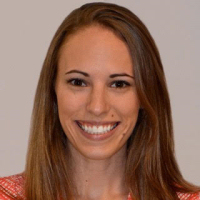 Dr. Renée Nykolak is passionate about creating beautiful smiles. She is dedicated to providing the highest level of care while utilizing the newest technologies. She strives to create a fun treatment environment and make every patient feel at home.
Dr. Nykolak was born and raised on Long Island, where she graduated top of her class from Long Beach High School. She then attended Lehigh University, where she earned her Bachelor of Science degree in Chemistry and graduated with High Honors. She then earned her Doctor of Dental Medicine (DMD) from the University of Pennsylvania School of Dental Medicine and graduated with Honors in Clinical Dentistry. After eight years in Pennsylvania, Dr. Nykolak moved to Michigan where she completed her specialty training in Orthodontics and Dentofacial Orthopedics at the University of Detroit Mercy School of Dentistry and earned her Masters of Science degree.
When she is not in the office, Dr. Nykolak enjoys staying active, traveling, and spending time with family and friends. She is an active member of the American Dental Association, the American Association of Orthodontists, and the Northeast Society of Orthodontists.