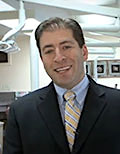 Dr. Joshua Rothenberg graduated from Binghamton University. He received his Doctorate of Dental Surgery and orthodontic training from New York University. Dr. Rothenberg is a member of the American Dental Association and the American Association of Orthodontists, and is a Diplomate of the American Board of Orthodontics.
Dr. Rothenberg is dedicated to maintaining a reputation of excellence in orthodontics and maxillofacial orthopedics and stays current in all the latest techniques. He has lectured on orthodontics and Invisalign®. Dr. Rothenberg will also soon be joining the staff at Mather-St Charles Hospital, in the dental department.
Dr. Rothenberg lives with his wife Abbie and sons Ethan and Zachary on Long Island.